Over the past two years—motivated by the need in our community for food at a time of increased insecurity during the pandemic—we expanded our perennial and small raised bed gardens into a mini farm
Regenerative Gardening at TomKat Ranch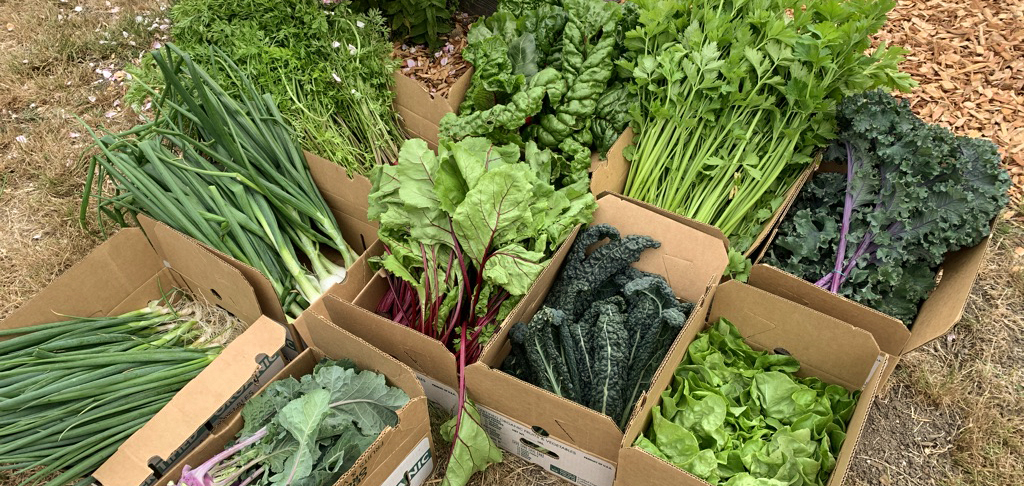 12/15/2022
By: Susan Hadacek and Wendy Millet

Over the past two years—motivated by the need in our community for food at a time of increased insecurity during the pandemic—we expanded our perennial and small raised bed gardens into a mini farm and started raising food to donate to our local community. We began with donations to our local school district, La Honda-Pescadero Unified School District, and Puente de la Costa Sur, and expanded to Ravenswood City School District and the Santa Cruz Homeless Garden Project.
As the garden expanded, we launched a Regenerative Gardening Internship in the summer of 2022. The five interns who spent time with us were incredible. Not only did they learn to grow, harvest, prepare, preserve, cook, and serve the food they had grown, they also learned to share our messages about how to grow food in ways that benefit the soil. 
With the interns' help and hard work, the ranch was able to donate close to fifty five hundred pounds of food to our donation partners. And with support from our first-ever Chef in Residence, Isabelle Nunes, the interns assisted in the harvest and processing of another fifteen hundred pounds of produce for preserving and serving to guests. 
The interns worked on a variety of projects designed to increase their understanding of soil health and its relationship to human health and nutrient-dense food, including building Johnson-Su BioReactors, creating compost and vermicast, making vermicast tea for the garden vegetables and a compost inoculant for the working compost project in order to supply the gardens with rich compost each season. 
As the plants grew and flourished, so did the interns. Eager to capture what they learned in a way that could be helpful to other aspiring gardeners and food system advocates, they worked together to create a Regenerative Garden Intern Capstone Project. Tailored to the gardens at TomKat Ranch, the interns also wrote it in a way they hope will be useful to anyone interested in applying regenerative principles and practices to growing fruits, vegetables, and flowers in a small garden or farm.
The garden, filled with vegetables as well as beautiful and beneficial flowers, is now another part of our learning lab at TomKat Ranch, a place to share how we apply the principles of regenerative agriculture to growing vegetables —in addition to our grazing efforts and delicious grass-fed beef! It's also a place where we can host our "Sun and Soil" program as we did this year for visitors from the Black Food Summit, Woodside Atherton Garden Club, Hillsborough Garden Club, Green Tech Education & Employment, Ravenswood School District's food program staff,  healthcare industry professionals, and more.
Listen to the Audio version of Regenerative Gardening at TomKat Ranch