Beef2Institution began in 2018 as a pilot program to address the barriers institutions face sourcing grass-finished beef from local, small- to mid-sized family ranches that practice regenerative land stewardship.
Beef2Institution: Farm to Hospital Regenerative Ranch Tour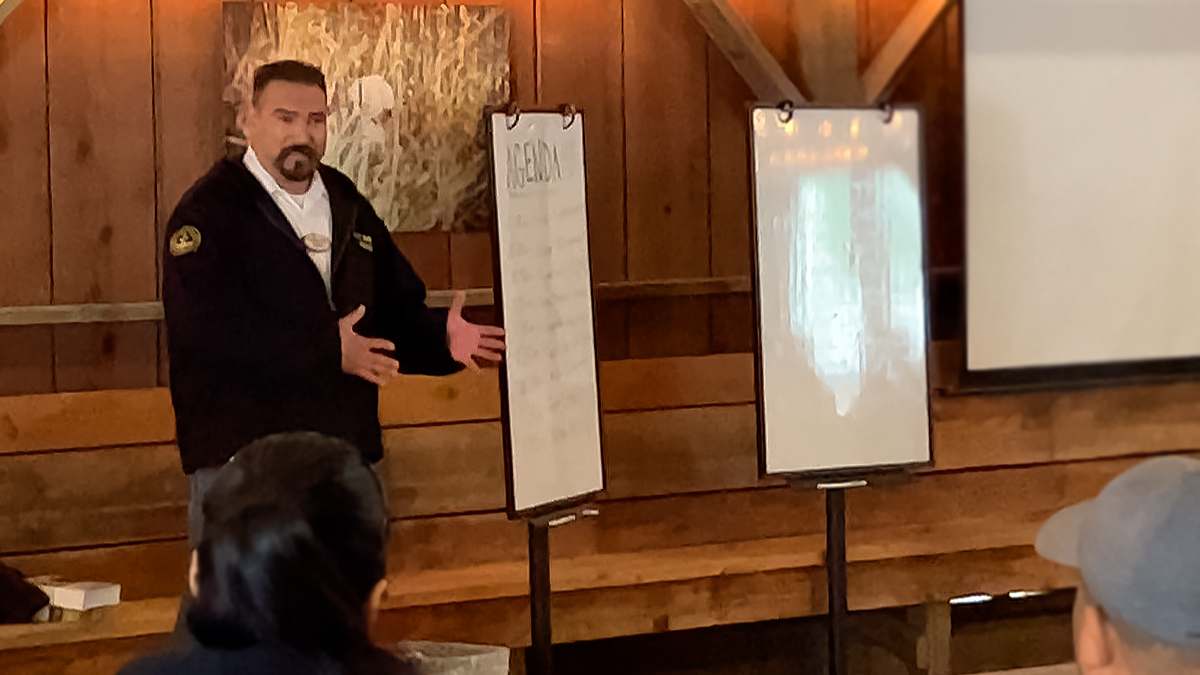 12/15/2022
By: Kathy Webster

As the food advocacy manager at TomKat Ranch, I care deeply about food and how it is grown and raised. My work centers around getting nutrient-dense foods from local farms and ranches into local communities: building demand, strengthening regional partnerships, and supporting processing and sales channels. One project I am particularly proud to highlight this year is the Beef2Institution collaboration. 
Beef2Institution began in 2018 as a pilot program in collaboration with Community Alliance with Family Farmers (CAFF) and Health Care Without Harm to address the barriers institutions (specifically, schools and hospitals) face sourcing grass-finished beef from local, small- to mid-sized family ranches that practice regenerative land stewardship. 
Since then, working with Oakland-based whole-animal butchery Cream Co. Meats, school food advocacy non-profit Eat REAL, small farm and ranch advocate Kitchen Table Advisors, and our growing network of family ranches, we have created the largest aggregation of Land to Market verified regenerative grass-fed beef in California. Today, the program reaches twenty school districts, four hospitals, and several tech companies and universities, including UC Davis Medical Center, LinkedIn, and Stanford, respectively. 
In May 2022, Beef2Institution gathered school food directors at Richards Ranch near Grass Valley, CA. The First Partner (spouse of the governor of California) and the California Department of Food & Agriculture's Office of Farm to School (CDFA-F2F) also attended. The gathering more than doubled the number of schools participating in the program and purchasing regenerative, grass-fed meats for their meal programs!
In October, building off the success of the Richards Ranch event, we gathered Beef2Institution partners, hospital food service managers, chefs, and buyers at TomKat Ranch to learn about regenerative ranching and why it matters. During a field walk, ranchers shared information about how regenerative practices can improve soil health, conserve water, promote animal welfare, strengthen community resiliency, and produce nutrient-dense foods. 
During the event, Chef Santana Diaz from UC Davis Medical Center spoke about how he was able to change a hospital procurement system and 'onboard' regenerative grass-fed beef that benefits the climate, health, and land. Carrie Richards of Richards Grassfed spoke about the challenges of selling high-value grass-fed proteins to institutions through large foodservice distributors who are not attuned to the value of regeneratively raised beef. The caring folks at Cream Co. shared their aim to support regenerative ranchers and fill demand as it continues to grow.
Following lunch, the conversation was facilitated by project partners Heather Frambach of Kitchen Table Advisors and Yousef Buzayan of CAFF around the importance of setting procurement goals that promote ecological sustainability and locally grown and raised food products. They shared that many hospitals are signing onto sustainable purchasing programs, such as Anchors in Action (aligning purchasing standards to shift institutional food service dollars towards sustainably and ethically produced products) or the Cool Food Pledge (focused on a climate-friendly, plant-rich diet).
"Does a doctor source cancer treatment based on cost? Then why are we doing that with the food we serve our patients?" – Chef Santana, UC Davis Medical Center
Hospitals and school systems are among the biggest purchasers of food in this country; a large institution like UC Davis Medical Center serves around 6,500 meals a day! Leaders like Chef Santana can make a difference by shifting the institutional procurement system toward nutrient-dense food that is healthier for people, ecosystems (soil, water, air), and wildlife. 
Just four years ago, the idea of getting beef raised on regenerative ranches into schools, hospitals, and other institutions seemed impossible; purchasing totaled less than $20,000 annually. This year, we are partnering with nearly 30 institutions and anticipate breaking the $1 million mark. As this growth shows, working together—ranchers, distributors, chefs, purchasers, and eaters—we have the power to create a food system that is healthy for the planet, the animals, and the people.
Listen to the Audio version of Beef2Institution: Farm to Hospital Regenerative Ranch Tour – Part 1
By Kathy Webster
Listen to the Audio version of Beef2Institution: Farm to Hospital Regenerative Ranch Tour – Part 2
By Kathy Webster