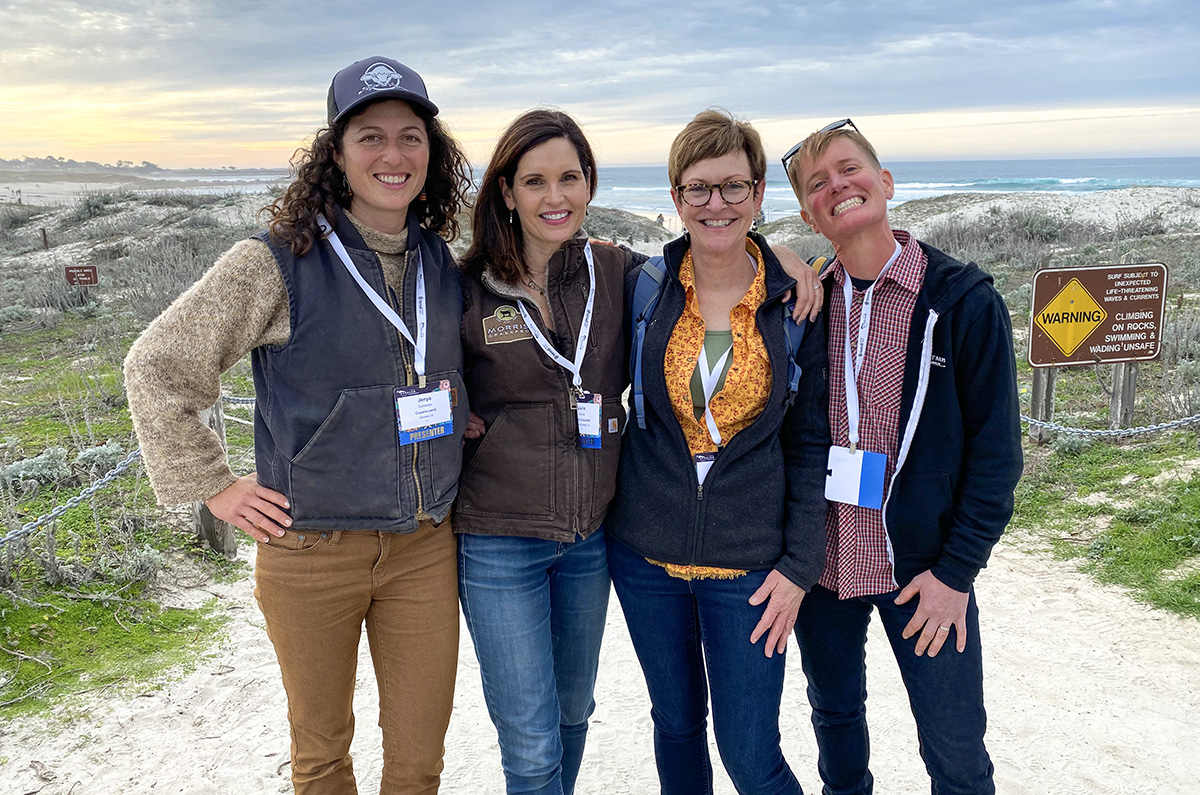 This past January,  the Ecological Farming Association (EcoFarm) held its 40th annual conference at Asilomar Conference Grounds in Pacific Grove, CA with the theme: '20/20 Vision'. EcoFarm has facilitated the development of an ecological and equitable food and farming system over many years. This year, the conference had a packed agenda that included: a pre-conference field day around soil health; the annual bus and farm tour; 72 workshops (from cover crops to food as medicine); seven keynote speakers; various mixers/social events; exhibitors' tents; and about 1,650 attendees. Though I always leave this conference inspired, this year I was even more motivated to continue working towards a more just and regenerative food system for all.
As part of our mission at TomKat Ranch to influence the way society eats, I and others collaborate with organizations like EcoFarm to spread the benefits of regenerative agriculture. We attend conferences, participate as board and committee members, moderate workshops, and organize speakers to catalyze conversations and actions around regenerative food systems.
As a member of the EcoFarm's board and planning committee, I helped organize workshops and the pre-conference field day at Swanton Pacific Ranch/CalPoly, titled: "Getting Down and Dirty: Bringing Life Back Onto the Land" with Nicole Masters and Jonathon Lundgren; alongside ranchers Gordon Claassen, Loren Poncia, and Kara Porterfield. 
Two workshops focused around regenerative grazing: "Stewarding Our Landscapes with Livestock" led by Dr. Rodrigo Corona Sierra from Santa Lucia Conservancy and Mark Biaggi, TomKat Ranch Ranch Manager. The discussion focused on the benefits of grazing, the custodianship ranchers bring to the great open spaces, and the value livestock play in conserving healthy landscapes. Ranchers today are quietly restoring watersheds, improving wildlife habitat, fighting range fires, and preserving some of the last great open spaces.
This my second year hosting: "Women in Regenerative Agriculture". Due to its popularity last year, three new women ranchers from different backgrounds joined us this year Julie Morris (Morris Grassfed), Jenya Schneider (Cuyama Lamb Company), and Dede Boies (Root Down Farm).  Each shared their personal story–how they got into ranching, challenges they face, resources, mentors, and words of wisdom. 
Several of TomKat Ranch's past interns (Rachel Sullivan, Drake Swezey, Kimberly Chaing-Haines) as well as current apprentices (Marianna Zavala and Andrea Hatsukami) attended this year as well! 
EcoFarm is an amazing educational conference with a variety of workshops and speakers for anyone involved or interested in food systems, it is also a place to network, connect, and reconnect with old and new friends and ideas. We hope to see you there next year!